Unique Gift Wrapping
And Presentation
In my opinion, a gift is not finished until it is wrapped up and ready to present to the recipient. Beautifully wrapped gifts indicate that you have put forth both time and effort in create wonderfully personalized gifts. With a little imagination and creative thinking, you can take an ordinary gift and make it truly extraordinary - all it takes is a unique presentation!
One of the most important parts of gift giving is the container in which the gift is presented. Don't get trapped by the idea that a gift must always go in a box! Baskets, bags, buckets, and cellophane are all unique ways to present a gift.
Creative Wrapping Materials:
Sheet Music Wrapped Present by Noii's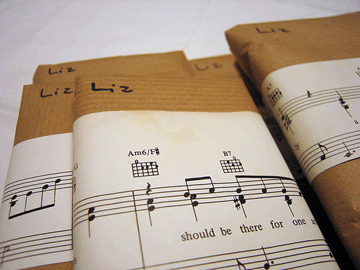 Create an attractive wrapped gift by choosing unusual wrapping paper or other materials. Use sheet music for the music lover, maps for those who enjoy traveling, or newspaper for anyone who keeps up with what's going on in the world. Use specific sections of a newspaper such as the sports pages, comics, etc. Other paper products that are usable are the pages from telephone books, magazines, coloring books, or comic books. Consider printing out your favorite family photos of the year onto paper and use for wrapping small items. Paper doilies, decorative paper napkins, aluminum foil, crepe paper, or brown craft paper are unique paper products that work well for wrapping gifts.
Photo by Claudia Assad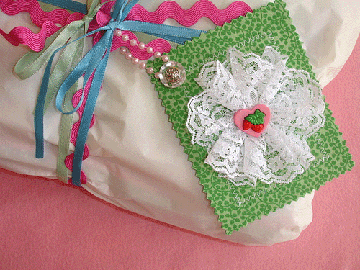 In addition to paper wrapping materials, delicate fabrics such as tulle, netting, organza, and chiffon are lovely for feminine gifts. Color coordinate the gift box with sheer fabric so the color blend nicely if the box shows through the fabric. Add a satin or sheer organza ribbon and loosely tie the ribbon into a bow. When using fabric, wrap gift boxes as usual or wrap as you would a gift basket by pulling extra fabric over the top of the gift with enough fabric to tie with a ribbon. If desired, tie a pretty silk flower in with the ribbon. You can also make or use a fabric gift bag.
Embellishments or Decorative Items:
Christmas Wrapping by mysza831
Adding small items is a great way to dress up your gifts as well as to tie in the theme of the gift. Choose a rattle or small toy for a baby gift. Add small white wedding bells to a bridal shower or wedding gift. Tie candy canes or small ornaments into the ribbon on Christmas gifts. Small toys, decorative cookie cutters, silk flowers, and any other small unbreakable items that can be tied with ribbon will be nice additions to complete your gifts.
Ribbon, Bows, and More:
Coordinate the color and type of ribbon used with the gift wrapping. Raffia and twine are better for gifts that are not feminine in content. Satin, sheer organza, or grosgrain ribbon in patterns or solid colors are lovely for feminine gifts. Ribbon with wire on the sides is easier to tie in a structured-type of bow than ribbon without wire. Curly ribbon is always nice and the easiest to work with. You can combine several colors or add a fixed bow or allow extra curled ribbon to cascade onto the gift.
Cello bags are inexpensive, keep your gifts dust free, and make gifts easy to transport. These bags are also used to wrap gift baskets, but they are wonderful for potted plants as well as for unusual shaped gifts. They are available in clear, many colors, as well as many decorative designs. You can purchase these bags in some card stores as well as party stores.
Browse flea markets, garage sales, or dollar stores for inexpensive and unique boxes, bags, and bows. Orientaltrading.com has a large variety of inexpensive and unique wrapping supplies. Dollar stores are also my favorite for getting wrapping paper, basket filler, and cellophane. It pays to do a little comparison shopping and pick up things off season and when they are sale. Think outside the box! You can find all sorts of labels and stickers in your local office supply store and the scrapbooking industry has made available so many amazing little embellishments that are perfect for adorning gifts.
The only limit to creative gift packaging is your own imagination. So, the next time you wrap a gift, go that extra step by using accessories or packaging that highlight the theme of your gift. Your thoughtfulness is certain to bring an extra smile of delight from your recipient.

Check out our ideas for more eco-friendly gift wrapping ideas!


---
Portions of this article were written by Janet Vogel.
Article Source: https://EzineArticles.com/?expert=Janet_Vogel

---


Return From Unique Gift Wrapping and Presentation To Home