Flavored Oils Make An Impressive Gift That Any Cook Will Love!
Photo by Strata Chalup
Making flavored oils is easy! Bottles of infused oils look great on kitchen shelves, and are always an impressive gift. Use them to add flavor to vegetables and meats, or in the place of spices and herbs. Flavored oils (or infused oil) also make great bases for salad dressings, marinades, and sauces. If you have an herb garden, this is a wonderful way to preserve and share your harvest!
Before starting any food storage project, its best to take all safety precautions. When making an infused olive oil the main concern is botulism. You certainly don't want to make anyone sick! One of the worst things you can do is introduce water into the oil. It's not the olive oil that is the problem, it's water - in the form of fresh garlic, lemon peel, herbs, fresh peppers or spices - that supports bacterial growth. Also, there's the risk of using fresh foodstuff that's been in the ground. It's another botulism hazard. That would include fresh garlic.
So, how do you get around this? You can certainly go ahead and mix all these ingredients, keep the oil refrigerated, and use it within a week. However, if you are making this for a gift, this is probably not the most practical solution. The key is to use dry herbs and spices to eliminate the water. When vegetables or herbs are dried, there is not enough moisture to support pathogen growth, so dried vegetables or dried herbs in oil can be stored safely at room temperature. This will also greatly extend the shelf life of your oil, allowing it to be stored at room temperature for 6 to 8 months, or refrigerated for up to a year.
Before starting, thoroughly wash the bottles, using hot soapy water. Rinse them well and let them dry completely. Again, make sure there's no moisture left inside.
Dry your herbs to remove all water, leaving the essential oils. For dry spices like cumin, allspice, peppercorns, or cloves, try toasting them first. In a skillet or pan, heat them up (without oil) until you achieve the fragrance. Place the spices and herbs in your bottle and add the the olive oil. Whole sprigs of thyme, rosemary, dried peppers, dried mushrooms, etc. are beautiful ways to decorate the inside of the bottle. If you wish to use garlic, you can always use granulated, however, look around for dehydrated garlic slices (McCormick makes some) - they make a nicer presentation.
Making Chili Flavored Oil by MarxFoods.com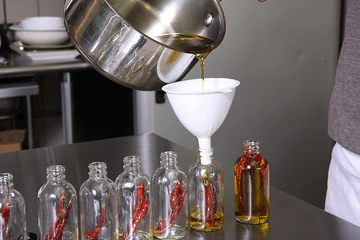 There are two types of infused oil - cold and hot. It is up to you as to which method you choose to use. You can make most recipes cold (i.e. you don't cook the oil) and simply add the oil to your herbs and seal the bottle. Alternately, you can heat the oil (with some of the smaller ingredients) and then bottle it. Heating the oil helps to blend and infuse the flavors, as well as to Pasteurize it. The tricky thing with heating the oil is that flavor compounds can break down and become bitter if it gets too hot -
DO NOT
boil it! It is best to keep the temperature around 150 degrees. A candy thermometer works well for determining this.
You can simply infuse your oil with one ingredient, such as a pepper oil, or you can try out different combinations of herbs and spices for a signature flavor (I like a nice Italian blend). You do not have to be limited to olive oil, either. There are many other different oils to choose from, such as safflower, grapeseed, and canola oil. Some oils can stand a higher cooking temperature, and others have milder flavors than olive oil. Do, however, buy the highest quality oil that you can afford. When you have made your infusion, store the oil in a cool, dark spot for a week to let the flavors meld before using.
Don't use infused oils for frying. Add them at the end of cooking or in cold dishes. Some great uses for the oils include:
A dip for your favorite artisan bread.
Add balsamic vinegar for a custom vinaigrette mix
Drizzle any herb-infused oil over tomatoes.
Toss cooked pasta or rice with any infused oil.
Brush fish or chicken with infused oil before grilling.
Drizzle over popcorn for a distinctive snack.
When making as a gift, include a tag listing storage instructions and some uses for the product. You will soon see how quick and easy it is to make your own flavored oils - you may like them so much that you keep some for yourself!


See Our Collection Of Flavored Oil Recipes!


---

Return From Flavored Oils to Home