Gifts In A Jar:
A Great Present For Just About Anyone!
Are you short on time? Just don't know what to get for your family or coworkers this year? Gifts in a jar are great last minute presents that you can literally put together in minutes. Best of all, the recipient will love and actually use it! Giving the gift of pre-measured ingredients in a jar enables your recipient to still prepare something homemade in a fraction of the time.
Gifts In A Jar by Beccapie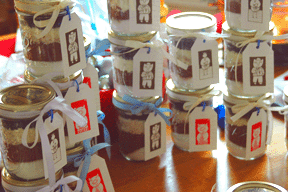 Homemade gifts in a jar are easy and fun to make, especially if you do them with your children or a friend. The possibilities are endless! Common sweet treat jar gifts include ingredients for muffins, breads, brownies, bars, and cookies. But, some of your recipients may not have a sweet tooth or might be dieting; in that case make soup, beverage, spice or dry rub mixes. Bath and body products are another wonderful idea for a gifts in a jar, and you don't have to worry about them contributing to the waistline!
Another great advantage to making gifts in a jar is that they have a long shelf life so you can easily make them a few weeks prior to the holidays and save yourself a lot of stress that this time of year usually brings.
You don't have to be real crafty to make these gifts, either. Simply fill the jars with the ingredients according to the recipes, seal, cover the top with a circle or square of pretty fabric and ribbon or raffia and attach a gift tag. If you like, make a label and glue it on the front of the jar, like those on old-fashioned jam jars. For a nice added touch consider adding a wooden spoon to cookie mixes or a ladle for soups. If you make bath or body products consider attaching a scrunchy or tea light candle.
Most jar mixes require that the recipient add something to the dry ingredients to complete the recipe. Beverages and soups often just need water. Some chili or stew mixes will require the addition of meat. Sweet treats may require butter, eggs or milk. Be certain to list the additional ingredients needed on the gift tag.
It really is that simple but the gifts look so beautiful, especially if you layer the ingredients by color. Your family, friends or even co-workers will love the thoughtful gift!
Here are a few more tips for assembling your gifts in a jar:
Pack down each layer of dry ingredients inside the jar before adding the next.
Add the finer ingredients, such as flour and sugar, in the bottom - otherwise they will filter through all the other items.
Place lighter ingredients such as nuts, dried fruit or cereal near the top.
If you are shipping a care package far away (all of that glass is heavy and breakable!) or your favorite recipes just don't fit into a standard jars, don't despair! You don't have to limit yourself to jars to use this idea. Simply use heavy-duty plastic freezer or cellophane bags. Once you've filled the plastic bags with the mix, there's an endless variety of ways you can dress them up for gift-giving:
Place them in a decorative tin or cookie jar.
Put them in easy-to-make fabric gift bags with a decorative tie.
Make a gift basket and include potholders, dish towels, or some small kitchen utensils.
Present drink mixes in a large mug (or set of mugs) with ribbon or raffia tied at the top.
Tie small gifts or accessories to the top, like chocolate covered spoons for cappuccino mixes, or a vegetable peeler with apple crisp mix, or candy canes for the holidays.
Include your mixes with just about any kitchen gift to make it really stand out.
Make an entire baking kit: include a cookie sheet, measuring spoons, cups and timer. This makes a great housewarming gift for those just starting out.
Check out some of our recipes! Some even include free printable tags that you can use to decorate your jars or bags.
Gifts In A Jar Recipes
Check out the Brand-tastic Sale - Stock up and save on the best craft supply brands at
www.CreateForLess.com
.
---
Return From Gifts In A Jar to Home