Eco-Friendly Gift Wrapping
And Presentation
If you are that creative person who loves to wrap gifts in unique ways, be a little more aware and think of some eco-friendly ways to wrap your gifts! Save the earth and be proud of it! Here are some interesting ideas for eco-friendly gift wrapping.
Gift Bags
Try using gift bags instead of paper. This isn't practical with all gifts but if you can place something in a bag with tissue paper, you should. Both the tissue paper and the bag can be re-used for later Christmases (or other year-round uses.)
Use Cloth
Use recyclable cloth gift bags for family presents. You can make your own from velour or another elegant material. Make small, medium and large sizes. Children love seeing custom sewn gift bags with their names on them. The best part is that you can use these year after year and make them part of your holiday tradition.
Make Your Own Recycled Wrapping Paper
You can make your own recycled paper by using newsprint, magazine pages and catalog pages to wrap your gifts. These colorful pages normally go to waste anyway and they make great wrapping paper. Newspaper works best if there are color pictures on the pages. For a different look, try finding foreign papers. Chinese, Russian or Farsi papers add interest to your gifts with their different looking characters.
Go Au Natural
Using recycled paper or newsprint can be very festive when using pinecones, cranberries or holly leaves instead of traditional decoration. Raffia can be used as the ribbon. The brown paper with natural accents will appeal to the most eco-conscious friends and family members.
Newspaper bags, tissue paper wrapping, gift tags by
Camilla Engman, tied with yarn from Skye.
Photo by Chatiry Girl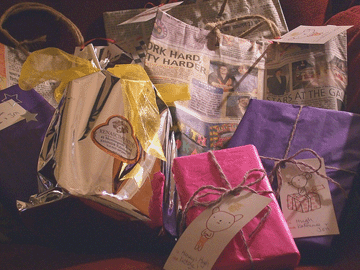 Two Presents at the Same Time
Utilize your money and your efforts by using daily use items such as pillow covers, beach towels, decorative bed sheets or organic cloth bags that can be creatively used to wrap up the gifts. Use a pretty dishtowel (for a bottle of wine) and tie it up with great ribbon, or use a jump rope to tie up a child's toy. You are giving two presents at the same time!
Make Unique Gift Tags from Old
Business Cards and Greeting Cards
Need gift tags to scribe on? Just get hold of some old business cards. Take two of them at a time and glue them on the printed sides with craft glue. Tie a string using the unused wool yarn or ribbon lying around, by punching a hole on the tag. Paint or paste some interesting graphics on the tag and now write whatever your heart wishes to communicate to the gift receiver. Or, cut out those cute graphics from old greeting cards, punch a hole, and tie onto your gift for instant, eco-friendly pizzaz!
Don't forget to attach a note with each gift to explain what you have done. Personalize them with tiny paintings, messages and crochet touches, etc. Also request the recipient to recycle or reuse your wrap. It's their turn to save earth now!
---

Excerpts of this article were written by Jamie Jefferson and Jeff Hardy.
Article Source: https://EzineArticles.com/?expert=Jamie_Jefferson
Article Source: https://EzineArticles.com/?expert=Jeff_A_Hardy


---


Return From Eco-Friendly Gift Wrapping and Presentation To Home