Creative Gifts By You, you will find ideas and instructions for making special, tasteful gifts that are easy on the wallet.

Photo by: Creative Flutter a.k.a. Mazer Design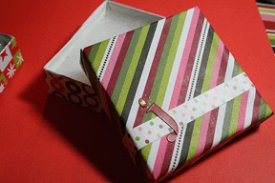 Many of the ideas that you will find here are thrifty and more personalized alternatives to store-bought gift packs and baskets, and are great for any occasion! There are loads of great gifts that can be purchased and assembled or made by hand very easily, gifts that are both thoughtful and frugal at the same time.
I like to make most of the gifts I give at Christmas. It makes the gift more personal, and who doesn't like to receive a homemade gift? It shows that you put thought and care into creating something special. And, you can customize it specifically for the person and/or the event or holiday being celebrated.
The key to making an inexpensive gift look impressive is in the presentation! Creative Gifts By You has lots of simple ideas that will give your presents extra flair! With a little creativity, you can turn an ordinary gift into something very special.
Many of my ideas have come to me while browsing through the mall and boutique shops around the holidays. I've seen all sorts of wonderful, yet outrageously priced, things that I realized I could easily make myself at home for a fraction of the cost. Stop throwing money out the window and create unique gifts that will be remembered!
I know you've probably heard it before but it's really true that you don't have to spend a lot of money to find that perfect gift for someone. Just be sure to put some time and thought into it and your gift will be well received!